Whether it be for Mother's Day, a girlie girl party, princess party, or just for fun, these High Heeled Cupcakes are sure to be the talk of the party!

This is my shoe collection!

More recently, this idea was featured as a "Mother's Day Cupcake" idea on one of my favorite blogs
Hoosier Homemade
and in the
Hoosier Homemade Cupcake Chronicles Email Newsletter
(you seriously need to subscribe...it's a little goody in your email box!)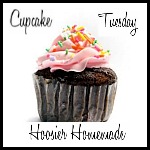 Now...it's my turn to try out these High Heels!
I wanted to make this High Heeled Cupcakes with Ghiradelli Dark Chocolate Brownie Mix. I prepared the box mix as directed, except with applesauce instead of oil and baked at 325 for 28 minutes. One box makes 12 brownie cupcakes. The picture I took of the naked cupcakes didn't turn out or I would show you that.
While the cupcakes were cooling, I used a small knife to slowly cut the graham crackers into a wedge shape. I cut extras in case some ended up breaking later. I did break a few during the cutting process and ended up with lots of scraps, so I will just save these in a sealed container for graham cracker crusted cupcakes like the
Coconut Cupcakes that I made for Easter
.
I used my Wilton Chocolate Pro to melt the Wilton Dark Cocoa Candy Melts and added a little shortening to thin it. When that was melted, I spooned the chocolate over one side of the graham cracker and refrigerated until hardened, about 5 minutes. As soon as the chocolate had hardened, I repeated on the other side. (Oops! I forgot to take a picture of this part!) I didn't get the chocolate applied as smoothly as I would have liked either. This was the most time consuming part. I felt like one of the Keebler Elves!
I then took the chocolate graham cracker wedges and painted a stripe up the side with corn syrup and dipped in colored sanding sugar. Then, I frosted the cupcake and dipped in colored sanding sugar and topped with a plastic ring.
I cut the Pirouline sticks with a knife right on the line, worked perfect! I dipped the flat end into the chocolate and let that dry a couple minutes (to look like those little rubber tips on the bottom of a real high heel). I followed that step by dipping the slanted end and propping it up under the chocolate coated graham cracker wedge and letting it dry like that, propping them up with a sprinkles bottle where needed, but most didn't need any extra support.
They were really easy to move, just holding the graham and the cupcake, the heels all stayed attached fine.
Lovely in Lilac
Pretty in Pink
These cupcakes were a lot of fun to make and easy too!
Happy Mother's Day to all you Mother's out there!