In case you missed it, earlier this week I went on an adventure to
Happy Hour Projects
and wrote my first guest post as Blog of the Week! If you haven't visited her, you should! Adrianne has such wonderful craft projects that can be done in about an hour! In keeping with the "Happy Hour Project" spirit, I made these cupcakes, which can be completed in about an hour, maybe a little longer, since the cupcakes will need to cool. The fun part...
Adrianne made them too!
What you need:
Cupcakes
Black Candy Melts
Spider Sprinkles
Black Sugar Sprinkles
Icing
Orange Gel Coloring
waxed paper
piping bag
tip 4 (optional)
tip 1M
Step 1: Bake your favorite cupcakes!
I used a recipe that I like quite a lot
Buddy Valastro's Vanilla Cake- from the Rachel Ray Show Website
. This time, I did make them a little bit different in substituting out half the butter for unsweetened applesauce. It does make the cake a slight different texture, but still taste great. You can also just take a box mix, add 1 cup water and 1 cup unsweetened applesauce as a healthier alternative, no eggs or oil, again a little different texture and slightly denser, but healthier.
-or-
Just bake up whatever cupcakes you would like, after all they are your cupcakes!
Let cupcakes cool before decorating. To speed up the process, stick them in the freezer for a few minutes!
Step 2: Make Spiderwebs
While cupcakes are baking, on waxed paper covered board pipe out your spiderwebs with black Candy Melts, I used Wilton Candy Melts. Microwave about 1 cup of melts in a microwave safe bowl for 1 minute on 50%, stirring halfway, I added about 1/4 tsp of shortening to the melts to make them easier to pipe. After candy is melted, pour into piping bag with size 4 tip, or just use a zipper bag and snip a tiny corner off to pipe for no clean up. However, I like the control of having a tip on a piping bag. Be sure not to make the spiderwebs too thin or they will break easily when removing from waxed paper.
. Immediately after piping each spiderweb, add your spider candy while the it is wet, these are by Wilton also. Make a few extra to allow for breakage. Once you are done put them in the refrigerator to set.
Step 3: Make Icing
I made
Buttercream
, using margarine instead of butter, but feel free to use your favorite icing recipe, or just use store bought icing! Color your icing whatever color makes you happy! Place icing in piping bag fitted with 1M swirling tip. I find it easier to put the bag in a cup to fill it.
Step 4: Decorate Cupcakes
Starting from outside and working your way to the center, swirl the icing onto the cupcake.
Immediately sprinkle with black sugar and add a few spider sprinkles. Gently remove spiderwebs from waxed paper and gently pressing into the icing. Eat and enjoy!
Now get to baking and have fun!
Happy Halloween!
That wasn't a demand...but I was thrilled when Adrianne told me she was going to try making these cupcakes herself! I just love seeing photos of when people remake my sweets! It really shows me not only are people reading my post, but they must actually kinda like it! Now Adrianne says she is "not a foodie," but even as a beginner she did an awesome job! Her husband even became part of the fun running to her, after grabbing the camera, as he heard
alarming noises
coming from the kitchen! She is unveiling her first piping adventure today on
Happy Hour Projects
!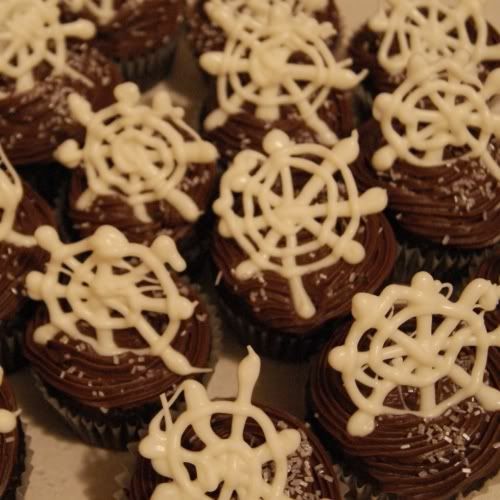 Adrianne did ask if I would share a few additional tips for newbies and here they are:
Using a piping bag takes a little getting used to! Whether it buttercream, royal icing, or candy melts, I like to use a large cup to hold the bag as I fill it and that will also catch any drips while filling. An extra pair of hands is also helpful!

I use black office binder clips to hold the piping bag shut at the top after I twist it closed, bread ties work as well.

Until you get comfortable with using a piping bag, fill it no further than 4 fingers high, this will give you more control.

When holding the piping bag your pinky finger should be closest to the tip, kinda like you are making a fist.

When using candy melts they can be very drippy or not drippy enough. Trust me, too drippy is better, if you have to squeeze too hard the bag will burst, been there done that! Experiment with different sized tips to help control the flow. No matter what, I usually end up with some candy drizzle on the counter top from when I sit the bag down. Keep papertowels handy!

If your tip does become stopped up unstop it with a toothpick or straight pin.

If using the 1M tip, you will not need a coupler, just cut the bag to fit the tip, snip about 1/3 inch off the bag, try the tip in for size, snip a little more if needed.

When starting out, as with any hobby, expect a lot of trips to your local craft store for start up supplies, tips, bags, colors, etc. Michael's is great, you can go to their website and get 40% or 50% off coupons!

Don't stress over it, even a messy cake taste great! We are our own worst critics! Check out

Cake Wrecks

!
and in case you still missed it....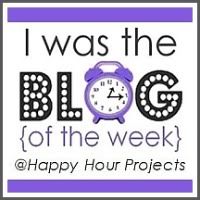 Thank you so much Adrianne for inviting me to guest post as Blog of the Week and for walking me through ever step of the way! This has been a lot of fun!
---
These Cupcakes are Shared at:
Around My Family Table: Turning the Table Thursdays
Something Swanky: Sweet Treats Thursday
Talking Dollars and Cents: Sweet Temptations